LAKE MURRAY, SALUDA RIVER, COLUMBIA, SC DAM LICENSING SOURCE PAGE
Kids Enjoying the Lower Saluda near Columbia.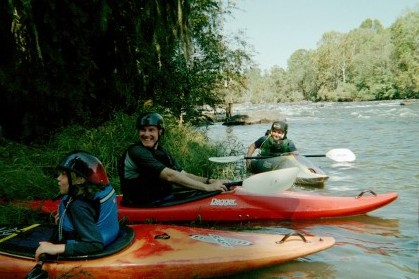 We need your help to preserve this for future generations.
PROJECT 516 DOCKET NUMBER P-516
Located at:
SALUDA RIVER, RICHLAND, LEXINGTON, FAIRFIELD COUNTIES
SOUTH CAROLINA
Owned by:
SOUTH CAROLINA ELECTRIC AND GAS COMPANY (SCE&G)
A subsidiary of:
This site provides information and serves as a forum to exchange ideas about the upcoming relicensing of the Saluda Hydro Electric Project. It is critical for people interested in maintaining Saluda River flows for kayaking, rafting, fishing, and water quality below the Lake Murray Dam get involved in the FERC relicensing process. You can see from the proposed partnership documents discussed below that the pressure to maintain lake levels will be intense. The relicensing is the time to act.
NOT ASSOCIATED WITH SCANA OR SOUTH CAROLINA ELECTRIC & GAS COMPANY
This site is designed to allow you to link to different topics as follows:
How to Monitor FERC Proceedings through the Federal Register and the FERC RIMS and CIPS sites.
How to Comment on FERC filings by paper and e-filings.
Links to the Details About Hydropower Relicensing
Help Get the Sewage Out of the Saluda!
For suggestions and comments about this site, my name is Parkin Hunter and you can email me. This site will be expanded as more information becomes available. For more information about South Carolina rivers, see my home page.